---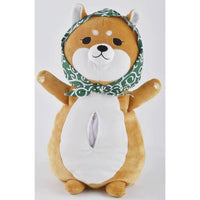 Size
About 490×240×190mm

 




About 250g

Materials 

Rayon · Nylon, Polyester · Polyurethane, Filling: Wad (100% polyester)

Country of Origin

China
Comments
From the popular Shiba Kikin Series, a tissue case cover is newly released!

 


Mild taste and slight fragrance of yuzu.

 

If you touch it it's already out ... It's the beginning of an infinite loop of healing.

 




People who can not be separated if there are eyes with a lovely expression are increasing.